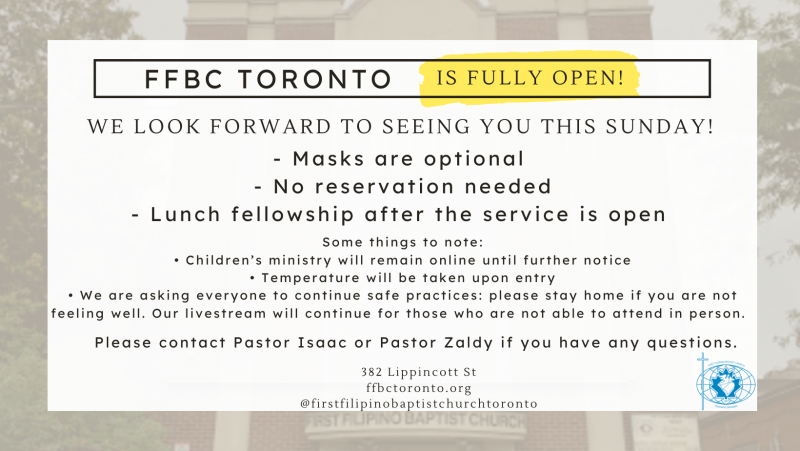 Greetings FFBC Toronto family!
We are pleased to announce that FFBC Toronto is now fully open!
Starting this Sunday, March 27, 2022:
1. Masks are optional meaning that the decision to wear a mask is entirely subjective to your personal choice.
2. No reservations needed meaning that you no longer need to fill up the online registration form.
3. No more seating arrangements meaning you are free to sit wherever you like.
4. Lunch fellowship after the worship service is open meaning that if you would like to stay and join us for lunch at the fellowship hall, you are more than welcome to join.

Now, some important things to note:
1. Children's ministry including junior church will remain online (ZOOM) until further notice. Junior church has moved to in-person starting Sunday, April 17, 2022.
2. Adult Sunday School will remain online (ZOOM) until further notice. Starting Sunday, July 3, 2022, the Adult Sunday School has moved to in-person in the Sanctuary with ZOOM available to those who are not able to attend Sunday School in-person.
3. Temperature will be quickly taken upon entry to the church.
4. We ask that everyone continues to practice safety measures to protect yourself and others: please stay home if you are not feeling well. Our livestream will continue for those who are not able to attend in person.
5. There are no changes to the service time meaning that Sunday School will continue to operate from 9:30AM-10:15AM and the worship service will begin at 10:30AM.
Please contact Pastor Zaldy Castillo or Pastor Isaac Melis if you have any questions!
We praise and thank the Lord for the opportunity of being able to worship and fellowship together in-person!
We look forward to seeing you this Sunday! God bless!